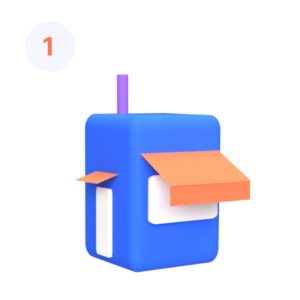 Do it at your own pace, start with the address and then add the details later. You choose!
Define the conditions of your lease agreements – the simplest to the most complex. Smovin handles the calculations of all the amounts to receive or pay.
Connect your bank account
Say goodbye to manual data entry! Easy and secure, connect your bank accounts to manage your payments in real time.
Stay on top of your rent
Thanks to your bank account connection and our algorithm, each payment received is assigned to the corresponding contract. Anticipate any problems and avoid losing unpaid rent!
Easily manage your contracts
Set up the gratuities, reductions, add special negotiated agreements to benefit from up-to-date data.
Added visibility
Smovin tracks all your invoices, communications and rent - everything at your fingertips on the cloud with unlimited capacity.
Integrate your accounting tools
Connect your accounting tools directly to Smovin and easily share charges and rent invoices between the two systems.
Collaborate with your team
Invite your colleagues and manage multiple accounts at once. Say goodbye to dependencies!
Smovin can securely consult the transactions on your bank account thanks to a mandate. This mandate does not permit the initiation of transactions from your account, only the right to see.
There are two ways to connect your bank accounts to Smovin.
Bank account connection via paper mandate
A form must be validated by your bank authorising Smovin to consult your bank account.  The activation delay can vary between 1 and 30 days. This option is only available in Belgium.
Bank account connection by digital mandate
An immediate connection thanks to Smovin's integration with Ponto and Budget Insight. This is all done thanks to the PSD2, a European directive that permits information exchange between banks and external services, such as Smovin – only if the client consents of course! Employing this technology, allows you to safely and securely give Smovin permission to consult your transactions for the application.
Smovin is automatically synchronised to ExactOnline via API and is currently working on the direct connection with other online accounting tools. Synchronisation of invoices with on-premise softwares is done through the exchange of files.
Smovin is made for small-size to mid-size real estate companies or companies investing in real estate. It caters to all types of properties, from residential to retail and offices.
You can use the application on your computer, but also from your tablet or smartphone. The mobile application is not downloadable in the Apple or Play stores, but can be used directly in your browser (app.smovin.be)
You use Android? Open your Chrome browser and enter the application's URL (app.smovin.be). Chrome automatically offers you the option to download the application on your tablet or smartphone.
You use iOS? Open your Safari browser and enter the application's URL (www.smovin.app). Click on the button "share" and "add to Home Screen."